Dear CIO,
A CIO has many plates to spin.
There are many calls on your time and on your resources so how do you allocate those precious resources to deliver the maximum strategic value to your organization?
It can feel like there's no end to the tasks that need your team's attention. Walking down the hallway can be an exercise in office politics as key business stakeholders lobby for their pet project.
Strategic alignment is an unrealizable goal.
The answer is to use TransparentChoice to measure the strategic alignment of all your activity, programs, projects and systems and to use that alignment measure to ensure your team is delivering maximum value.
TransparentChoice can help you improve strategic alignment of your portfolio by:
Building agreement between your stakeholders about what your strategic priorities really are.

Using these priorities to measure the alignment of your projects, initiatives, programs or systems.

Letting you put strategic alignment at the heart of your decision-making.
How strategic alignment of projects affects you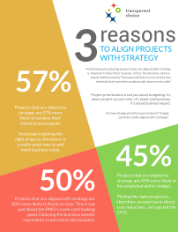 Improving strategic alignment can have a massive impact. For example, PMI data shows that projects that are aligned with strategy are a massive 57% more likely to achieve their business goal than those that aren't aligned (click on the image to learn more).
This has a direct impact on your team's ability to deliver value to "the business".
Putting strategic alignment at the heart of your decision-making lets you and your team (Benefits of Strategic Alignment of Projects):
Boost project success rates by as much as 57%

Identify and eliminate waste

Allocate resources to areas that will have maximum impact on the business

Prioritize and select projects that are well aligned with strategy

Prioritize which infrastructure / systems need attention

Eliminate the "he who shouts loudest" problem

Help reduce the political temperature, delivering rational decisions

Change the nature of the relationship between IT and "the business" to be far more strategic
Getting Started
If you are a CIO and would like to learn more about putting strategic alignment at the heart of your decision-making, simply set up a short call with our CEO.