On-demand webinar
How to build a strong business case for project prioritization
Here's a 2 minute overview of business case for project prioritization.
Watch this in-depth version on how to build and present a business case for enhanced project prioritization.
Download this template and build your business case
---
Latest on our blog...
Alright, let's make this quick - I know this hurts. As a profession we still fail far too often. Project failure is a major source of waste and frustration in most organizations. Here are a few interesting nuggets of information:
---
Okay, everybody talks about the importance of the strategic alignment of your project portfolio. Your portfolio exists to support your business strategy but in this blog, I want to look at things the other way around. Let's assume we've already aligned our portfolio to strategy - what benefits would we see?
---
In this blog I often talk about the project prioritization process and the best method of implementing it. In this article I would like to share some ideas on how to use the prioritization matrix to prioritize projects in a way that gives you a chance to succeed.
---
Okay, so you may have read our ultimate guide to project prioritization and now you want to know how to actually prioritize projects. You're in the right place.
We'll break it down into 4 easy steps.
1. Value definition
Let's get one thing clear before we start. Your projects are not "your" projects, they are there to deliver strategic value to the business. It is, therefore, vital to make sure that "the business" - for the purpose of this blog, that means a diverse group of senior stakeholders - what "value" means before you start.
This process begins with a brainstorming session with your executives. The goal of this brainstorming is to end up with a list of 4 to 7 top-level strategic goals - the business goals that are most important to your stakeholders. We will then use those goals as criteria to evaluate and score your projects - this is what allows you to deliver strategic alignment.
Your top-level criteria can be further divided into sub-goals. You might end up with something like this:
---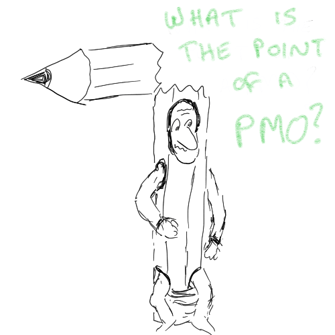 So, you've probably heard the one about the broken pencil?
....nah, there's no point.
Maybe that's really a joke about PMOs. You've seen the stats, right?
50% of PMOs close within 3 years (APM)
Since 2008, PMO implementation failure rate is over 50% (Gartner Project Manager 2014)
68% of stakeholders perceive the PMO as bureaucratic (2013 Gartner PPM Summit)
I've written before on ways to turn this around, but there's one underlying challenge: many PMO leaders themselves don't understand the point of the PMO. If the PMO leader doesn't know what the PMO is for, how can the senior executives value it?
---